Most of us can easily think of the moments we've lived in absolute terror. Fear is like a tattoo on our souls, except it's a permanent mark that we don't want to show others. In reality, everyone experiences the emotion of fear; however, that doesn't help us feel any better about our own.
I hate the dentist. Actually, I don't hate the person; I hate the experience. I have more fillings and root canals than most people have teeth. I'm pretty sure I've put a few of my dentist's kids through college.
The entire experience is a nightmare for me. Of course, the minions who serve Dr. Toothenstein try to pull the wool over my eyes. The room is clean and the music is soothing. Everybody smiles and treats me like I'm about to go for a quiet walk on a beautiful beach. I'm placed in a recliner, of sorts, but just out of sight is a tray of neatly organized torture devices waiting to rip into my mouth. The doc enters with a sadistic grin. He asks how I'm doing while washing the evidence of his previous victim from his hands. I'm thinking, If this is so safe, then why are they covering my eyes with safety glasses?

Being a manly man (meaning proud and stubborn), I've typically said no to using any happy gas (nitrous oxide) during my visits to the dentist. But that all changed after spending three hours in an endodontist's chair in the summer of 2012. As she carved deeper and deeper into my jaw, trying to remove an obstinate root, I went deeper and deeper into the dark hole of terror. Frankly, I had my first panic attack, and I felt foolish, embarrassed, and angry with myself.
Can you remember the last time you were afraid? Maybe it was during a near-death experience in your car. Maybe it was at 30,000 feet when your plane hit an air pocket and you hadn't paid attention to the "keep your seat belt fastened at all times" warning, and suddenly your head was jammed into an air vent. Maybe it was during a movie like World War Z, and you still wake up in the middle of the night screaming. [1]

Whatever your last fear experience was, I'm sure it still makes your pulse race and your heart skip a beat when you think about it.
Fear is like a Vice Grip on our minds. Fear puts our gut into a knot of anguish. It squeezes our hearts. It hurts our faith. It wounds our souls. It's like getting punched in the solar plexus because it literally takes our breath away.
Fear sucks. Physically, emotionally, mentally, and experientially it robs us of so much.
Unfounded fears produce unnecessary reactions that cripple us and cause us to withdraw from living the epic life God has planned for us. Too often we say no to God-given opportunities because we're afraid. Too often we miss the chance to develop and grow because we've chosen to play it safe and avoid any risks.
The problem with fear is its costs to us when we are bound by it. It steals precious time. It wastes our energy. And it often robs us of our destiny.
I'm the last guy on the planet to give you a hard time about being afraid. I get it. If you struggle with fear, we are brothers/sisters from a different mother. You'll get no finger-wagging or shaming looks from me. But we don't have to stay stuck in the grip of terror. We can live free. We can grow. We can choose to "fear not" rather than live bound by "fear knots."
To live free, we need to consider a few things:
First, we need a change in our perspective. This life is temporary. Our bodies are "but dust,"[2] and we're scheduled for an upgrade in eternity. When we remember that Jesus defeated death [3], it can change the way we view those things we fear.
Second, we need a change in our minds. Fear is often the result of faulty thinking. We develop destructive mental habits that become the emotional ruts that we run into. I heard someone say once, "You fight bad thoughts with good thoughts." I couldn't agree more. We must teach our minds to dwell on whatever is excellent and admirable and to focus our thoughts on all that is true, holy, just, pure, lovely and worthy of praise.[4] The Bible also says, "You will keep in perfect peace all who trust in You, all whose thoughts are fixed on You!" [5]
In other words, a God-fixed mind is a peace-filled mind.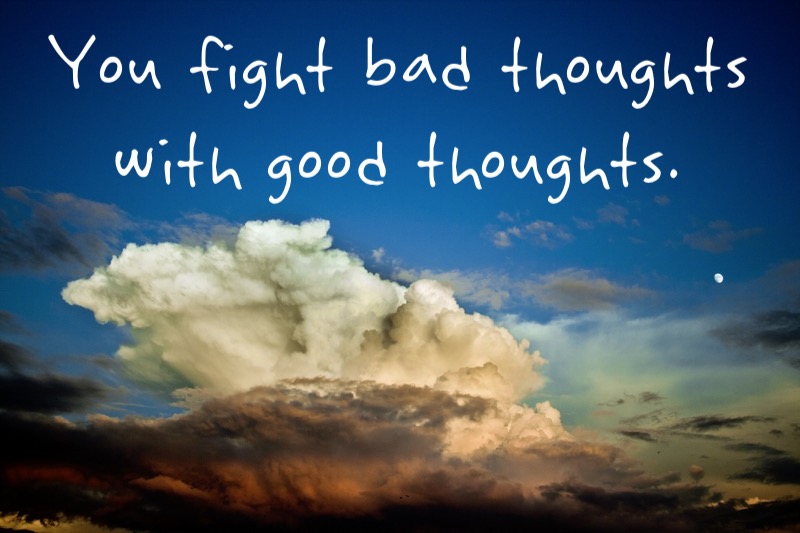 We also need to train ourselves to seek and trust God when terror strikes. I love these words of David, found in the Psalms: "I sought the LORD, and He answered me; He delivered me from all my fears." [6] When the unexpected happens (and it will), to whom do you turn first? Does your heart run toward God in prayer, or do you run to the medicine cabinet for a Valium?
Finally, we must learn to lose our fears in the sea of God's love. In many ways, the root of all fear is spiritual. We doubt the goodness of God. We question the love of Jesus. We wonder if God is really mindful of us and our situation. But "perfect love casts out fear." [7] Knowing we are deeply loved by a Father who always has our best interest at heart is critical to living an epic life.
I imagine I will wrestle with some fears for the rest of my life, but I cannot afford to let them control me or my destiny in Christ. The key for you and me is to press beyond them and to walk through the fear threshold before us. Why? Because a life beyond our wildest imagination is waiting for us on the other side of the fear barrier.
Why would we settle for anything less?
Like what you've read here today?
Check out my books on Amazon.
[1] A 2013 apocalyptic zombie film starring Brad Pitt.
[2] Psalm 103:14
[3] I Corinthians 15
[4] Philippians 4:8
[5] Isaiah 26:3, NLT
[6] Psalms 34:4
[7] I John 4:18
(Visited 614 times, 15 visits today)