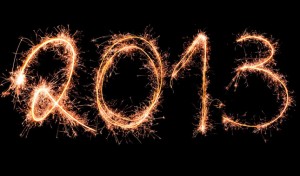 Wishing someone a Happy New Year shouldn't be hazardous to your health, but I remember doing so to a guy last year and he almost decked me. He was in the middle of a divorce, he'd recently lost his job, his health was horrible, and his older kids didn't want to have anything to do with him. His life was a country western song except he didn't drive a Ford and hadn't lost his dog. (Come to think of it, I think his "ex" did keep the dog.)
What do you do when you're facing a new year with the same old you? How do you handle the future when your past and present are so screwed up your life could be a primetime reality show? What difference does one lousy day on a calendar make?
At the risk of being digitally-decked by someone who's going through hard times, let me gingerly offer a few suggestions:
1.            Adjust your expectations.
I'm not saying just suck-it-up-buttercup, but I am saying maybe it's time we figured out that life is hard sometimes. Kids get sick. Parents get old. Spouses get stupid. We live in a broken world with broken bodies and often in marginally to terribly broken relationships.
Perhaps, if we remember that we were never promised an easy life, we will better handle the real life we're surrounded by most of the time.
2 Corinthians 6:8-10 (NLT) "We serve God whether people honor us or despise us, whether they slander us or praise us. We are honest, but they call us impostors. We are ignored, even though we are well known. We live close to death, but we are still alive. We have been beaten, but we have not been killed. Our hearts ache, but we always have joy. We are poor, but we give spiritual riches to others. We own nothing, and yet we have everything."
2.            Adjust your attitude.
Relax, I'm not going to tell you, "When life hands you lemons, just make lemonade," but I am going to remind you that attitude matters.
Often, we can't do much, if anything, about the circumstances bombarding our lives, but we always (and yes, I said always) get to choose how we handle those challenges.
We can wallow in our misery or decide to push on. We can become critical, negative, and emotionally ugly or grow through our struggles, not just go through them. We choose.
Philippians 4:8 (NLT) "Fix your thoughts on what is true, and honorable, and right, and pure, and lovely, and admirable. Think about things that are excellent and worthy of praise."
3.            Adjust your focus.
Now that we've adjusted our expectations and attitude, the next vital course change is to readjust where we put our attention. Not only do we choose our attitude, we also choose our focus.
I've completed lots of 10K and 5K races and a couple of marathons in my life. Of course, you have to prepare for races and train, but to complete the race you have to focus on the finish line. In life, you have to focus on the finish line too.
In my first marathon, I hit the wall at about mile 18. I was toast. My feet felt like they were glued to the street and like running through peanut butter would have been easier. One of my worst moments came when a woman older than my grandma went trotting past me like I was standing still (I might have been).
The only thing that kept me going was this simple fact—I didn't enter an 18-mile race—I entered a 26.2-mile marathon. I wasn't finished yet, so it wasn't time to stop. Crawl, walk, limp or lumber, I was going to finish . . .  and I did.
Here's my point: Today might be tough, and tomorrow might be tougher, but until we take our last breath, it ain't over!
Fix your eyes on the finish line and finish well. Stop looking down at your bloody and tired feet, and lift your eyes to the goal that lies before you. The One who showed you how to endure suffering is waiting there for you there, and He will help you complete the race of life.
Philippians 3:13-14 (MSG)  "I'm not saying that I have this all together, that I have it made. But I am well on my way, reaching out for Christ, who has so wondrously reached out for me. Friends, don't get me wrong: By no means do I count myself an expert in all of this, but I've got my eye on the goal, where God is beckoning us onward—to Jesus. I'm off and running, and I'm not turning back."
Is a Happy New Year possible? I think so. I believe so. I know so. Do you?
Fiscal cliff or not, physical challenges or not, past wounds or present hardships need not determine your joy.
You are not alone—He's still Emmanuel—even after Christmas.
Psalm 46:2-3 (NIRV)
2 The earth may fall apart.
The mountains may fall into the middle of the sea.
But we will not be afraid.
3 The waters of the sea may roar and foam.
The mountains may shake when the waters rise.
But we will not be afraid.
(Visited 56 times, 5 visits today)