I was downtown last week, and to avoid the cold, I went through our local bus transit center on my way to get a cup of hot coffee. Many cities have stations like this, and they often are filled with the poor, the homeless, and lots of street kids.
Apparently, the loitering laws aren't enforced in a public place designed for people supposedly waiting for a bus.
I'll be honest; my first thought was, "Wow. This place is just a little bit scary." On a bench an older guy was sitting by himself and having a conversation—with himself. There was a scraggy-looking woman with a cart full of who-knows-what, and she smelled so bad I choked.
Several rough-looking teens were glued to their cell phones listening to something, and when one of them looked up at me, I could see the hopelessness in his eyes. Another emaciated young woman, probably a meth-addict, stood staring out a window.
That's when another thought hit me, and this one was far godlier, "I'm pretty sure Jesus would hang out here, a lot, and He wouldn't be scared or put off by anyone."
Those I labeled losers, Jesus labeled love.
Busted.
It's funny how a change in my perspective brought about a significant change in my attitude. And attitude is one of the most important choices any of us can make.
In an instant I switched from concern for myself to compassion for others. The people in that transit building didn't change, but I did.
Why?
Because I started to see the poor and the disenfranchised there as humans who are profoundly loved by the Father. Interestingly, these were the people Jesus felt the most comfortable with, and the lowly and impoverished always felt accepted by Him.
Of course, I know what the Word says about the poor. I understand our call to be generous, kind, and Christ-like. Good grief, I've taught about compassion for the marginalized many times.
But there's nothing quite like a walk through a bus station, on my way to spend nearly four bucks on a cup of coffee, to force me to a profound realization.
Jesus didn't just talk about the poor—He talked to them.
Jesus didn't just teach about love—He loved the unlovely.
Recently, in my new favorite book, People of the Second Chance, I read this quote by the author and monk Thomas Merton, "Our job is to love others without stopping to inquire whether or not they are worthy. That is not our business. What we are asked to do is to love."
Obviously, I still have a long way to go.
Maybe I should go on a bus.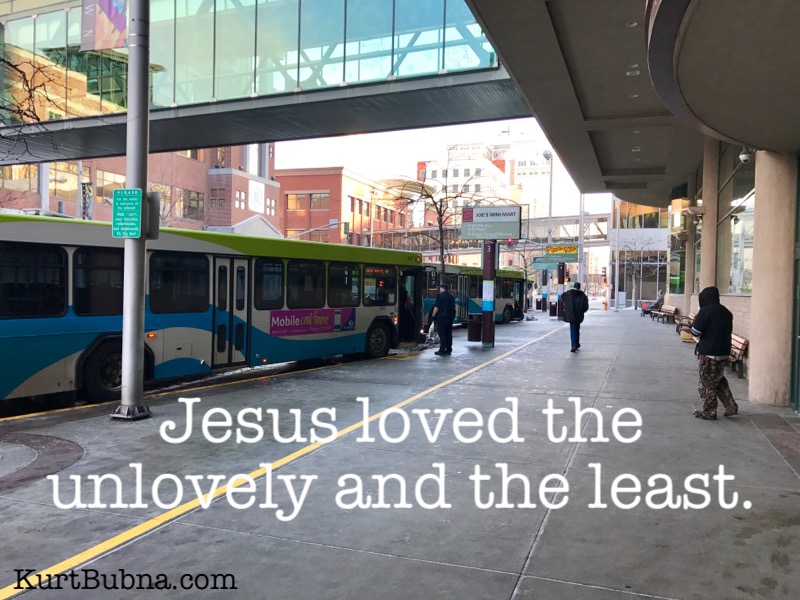 "When you give a banquet, invite the poor, the crippled,
the lame, the blind, and you will be blessed.
Although they cannot repay you,
you will be repaid at the
resurrection of the righteous."
Luke 14:13-14 (NIV)
(Visited 530 times, 10 visits today)