Share with a friend: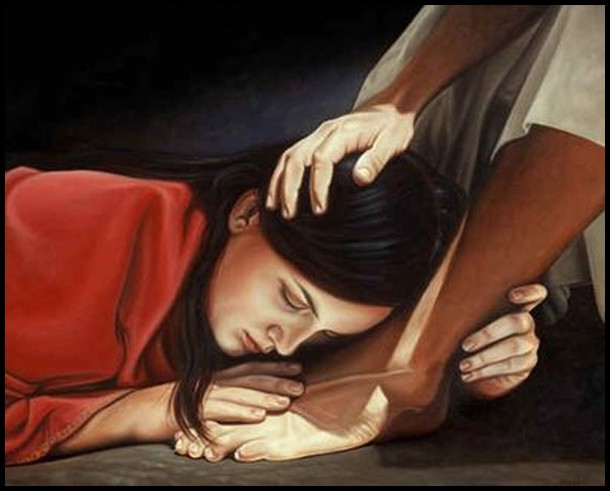 Relax, this is not about getting wasted or some pro-pot post. It's about some expensive perfume that was "wasted" on Jesus when it could have been sold for a lot of money. However, what the disciples saw as extravagant squander, Jesus saw as extraordinary adoration.
The setting for this story is incredible.
Jesus and the disciples are in the town of Bethany, just a short distance of about two miles from Jerusalem. According to Mark's gospel (Mark 14:1-9), Simon the leper hosts a dinner at his home with Jesus as the special guest. It's quite likely that Simon was leprosy-free due to a miracle of Jesus.
Jesus is in his final hours, and he knows this road trip to Jerusalem will end in his death. He has gathered with some friends and his followers to share a Passover Eve meal together.
As the honored and distinguished dinner guest, custom dictated that Jesus would have his head anointed with a drop or two of nard, a pure and expensive perfume. But a woman enters the room with an alabaster flask, and she pours all the perfume over Jesus' head and feet. (John's gospel identifies her as Mary, sister of Martha and Lazarus.) She then dries his feet with her hair.
The room is filled with a powerful aroma. Undoubtedly, Mary is weeping tears of joy out of her deep love for Jesus. However, in that culture, women didn't touch an unrelated male and certainly not a Rabbi, so there is an uneasy tension in the room as Mary literally lets her hair down and caresses her Lord. Quiet at first, and shocked by Mary's lack of discretion, the men reclining at the dinner table are appalled at her waste.
Judas speaks up, "Why was this expensive perfume wasted? She could have sold it for a small fortune and given the money to the poor!" In fact, it says the disciples, "scolded her harshly."
Jesus comes to Mary's rescue and tells the guys to "leave her alone . . . why berate her for doing such a good thing to me?" He understood what they apparently did not: Love is sometimes extravagant and reckless.
Custom required the giving of alms (i.e. offerings) to the poor during Passover. This rare perfumed ointment was worth about a year's wages. The disciples saw Mary's act as a misuse of resources; Jesus saw it as a timeless and selfless act of adoration.
Some things never change.
Many in our world (and even some modern-day disciples) look at something done for Jesus and his bride, the church, and call it a waste. But Jesus sees it differently. Acts of adoration matter a great deal to him.
Many years ago, when we were in our twenties, my wife and I gave a large financial gift to a brand new church. We didn't have a lot, but this money was part of a settlement my wife received for an auto accident.
Our friends and family expected we would use the funds as a down payment on our first house. Others suggested we take a trip to someplace exotic and special. However, we prayerfully decided to give it away as an act of adoration for Jesus. People thought we were crazy, but for us it was simply a way to show him our heartfelt love.
So what can we learn from Mary?
 An act of adoration will cost you, others will often misunderstand it, but it will always be accepted and valued by Jesus.
 True adoration expressed to Jesus will stand the test of time and God will never forget it. Everything we do for the Kingdom of God is never forgotten and it has eternal value. Jesus told his disciples, "I assure you, wherever the Good News is preached throughout the world, this woman's deed will be talked about in her memory" (Mark 14:9, NLT).
 If you have to be told to do it, then it's not an act of adoration. True adoration flows from a broken and humbled heart. It is the overwhelming response of someone amazed by God's grace and love.
Just like Mary of Bethany, we all have access to Jesus. He is always within our reach. She demonstrated selfless love and passionate adoration not because she had to, but because she wanted to in love.
What will you do for him as an expression of your love? It might not be practical. It might not be logical or reasonable. It probably will be a sacrifice. But whatever is given in love is precious in the sight of God.
It's something to think about.
(Visited 212 times, 19 visits today)
Share with a friend: